05 avril 2019
At the beginning, we have been in the Outback it was beautiful and interesting. Then we have seen some kangaroos, they are nice and rapid. After we have seen Cathy FREEMAN about it in calf running, she run quickly. We have seen a match of cricket, it was cool.
-It's a flag Australian.
-Team to the cricket Australian.
-It's a kangaroo.
-It's the Outback.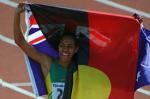 -It's Cathy FREEMAN.
03 avril 2019
There are serveval tipes of kangaroo such as the giant kangaroo, the grey kangaroo, the antelope kangaroo and the red kangaroo. There is the rare white kangaroo.
-It's the red kangaroo.
-It's the white kangaroo.
-It's the grey kangaroo.
-It's the antelope kangaroo.
-It's the giant kangaroo.
Australia's cricket team represents Australia in major international competitions, such as the Cricket Word Cup.
-Australian logo.
-During a match.
The Outback is the name of the vast uninhabited and mostly arid regions that make up the backcountry and remote coaslines of Australia. It contains a popular Uluru site, the iconic red rock monolith of Australia. To the north, kakadu National Park where there are arboriginal paintings and billabongs (dead arms of a river).
Cathy FREEMAN was born February 16th 1976 in Slade Point in Australia, today she is 46 years old. She is married to James MURCH and a daughter named Ruby MURCH. Cathy is a 400M sprint athlete, she was an Olympic Champion as well as a double champion of the discipline.